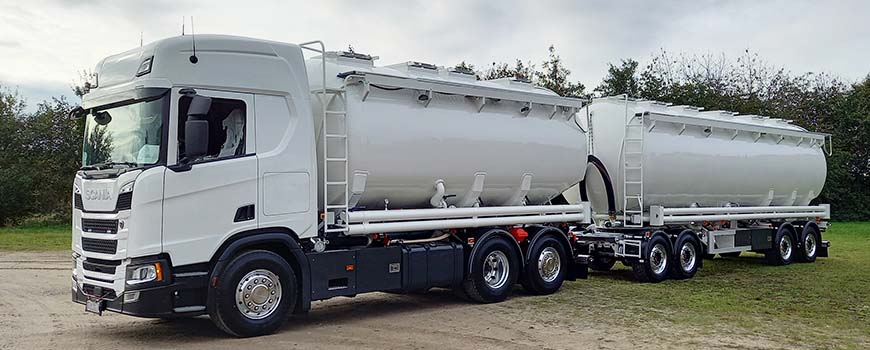 Newly designed
Feed solutions
We have designed a completely new feed solution consisting of a feed tanker and feed trailer, with a strong focus on net weight, volume, cleaning, operation and safety.
The feed tankers and trailers are made from aluminium and optimised to carry as much feed as possible. We have reduced the weight of the feed tanker and trailer by approximately 400 kg on both constructions. The feed tanker can carry 27m³ and the feed trailer can carry 42 m³, and they are both optimised for transport within the permitted limit.
The 26-tonne feed tanker is built on a Scania R500 chassis. There are 4 compartments in the tank, and the feed tank is constructed with 1-3 pressurised compartments. The 30-tonne feed trailer is constructed with 4 axles on a strong aluminium chassis, and the tank has 6 compartments and 1 or 2 pressure compartments. The pressure chambers on the tanks provide great flexibility, as it is possible to transport different types of feed on the same trip. This also makes fleet planning easier and minimises driving with empty tanks. Compartment separation has been optimised for maximum use of axle load, and the top hatches are raised for extra volume in a single run. The piping systems are optimised and are light and durable. The cone shape of the tank constructions themselves, and the inlets to the bottom valves have been improved, and the installation of Solimar nozzles in each compartment allows much faster unloading. The efficient and fast pressure valves on the tanks also contributes to faster unloading.
It is possible to unload from the front as well as the rear, which minimises the hose length for the trailer. The built-in pressure valve is insulated, and switching between suction and pressure functions on the vehicle is done quickly. Safety is paramount, as the driver can perform all tasks with a remote control. Effective lighting is fitted throughout the feed tanker and trailer, providing the driver with optimal light on arrival at the unloading position. The tank top is easily accessible via a ladder with non-slip steps, and the safety railing is air operated. The top hatches are very user-friendly and easy to open, therefore loading can be done safely and quickly. Tanks and tubes are smooth on the inside, thus the tanks are very easy to clean, as unloading does not leave feed residues in the corners.
Both tanker and trailer have been fitted with the latest underrun protection, which complies with the new regulations in force in this area as of 1 September 2021. The trailer also features side markings with indicators for additional safety when turning right, and strobe lights have been added to optimise safety. It is also possible to switch on additional lighting when parking the trailer, as it is fitted with P-light parking lights.
To achieve high durability, the tanks are covered with a clear lacquer, which ensures an extra strong paint finish.
Get an offer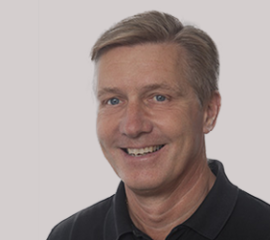 Should we contact you
Fill out our contact form and we will contact you
Contact me