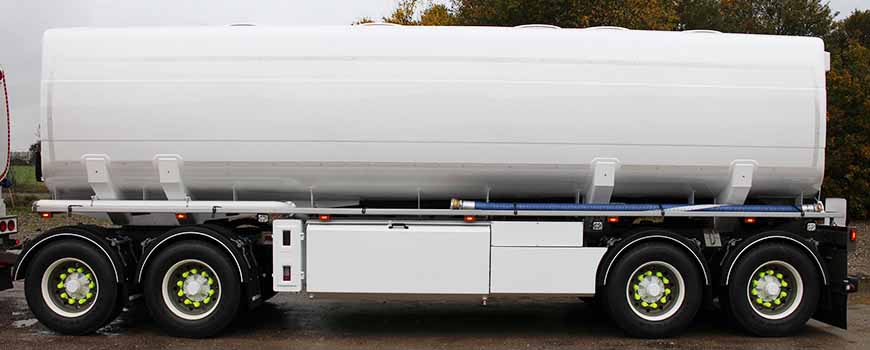 We produce a 4 axles drawbar trailer in various sizes according to the current need for transport of petrol and diesel products. The drawbar trailer is delivered with the best quality aluminum tank according to ADR with a low net weight, which allows your truck to transport more product on the same trip.
The 4 axles chassis is used by many Danish customers in conjunction with a 3 axles rigid tank truck after the total load of vehicles was raised from 48 to 54 tonnes in 2010 and further increased in 2014 to 56 tonnes.
BENEFITS:
More volume on the same tank truck for distribution in the adjacent area where a drawbar trailer can bed used for external storage and the load on the trailer can be pumped into the rigid tank truck. The construction has great accessibility.
CHASSIS:
We build our tanks on suitable ADR approved chassis in the available brands, usually delivered by the customer. Two front axles and two rear axles with 1st, 2nd and 4th axle steering, or a front axle and triple buggy as rear axle with 1st and 4th axle steering.
CONSTRUCTION:
With or without spill box
1-6 compartments with placement og surge-plates according to ADR, usually they are built with 6 compartments
Tank is usually built in suitcase profile
With / without pump mounting and hose drum/s
Net volume 30 m3 - 33 m3 depending on project and driving needs
Get an offer
Should we contact you
Fill out our contact form and we will contact you
Contact me