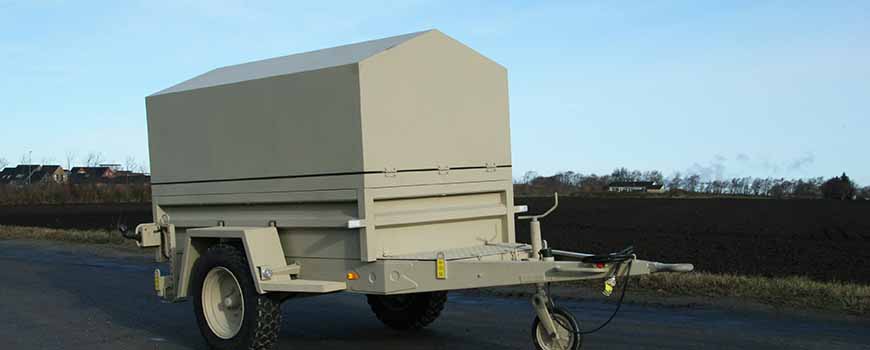 Our trailers are produced with a strong hot-dip galvanized steel chassis and they are robust and can withstand heavy loads. Therefore, they are perfect for various tasks in the defence and can be used for both regular and off-road driving in the field.
The trailers can be made in both ½ tons, 1 ton and 3 tons, and they are equipped with pneumatic brakes. They can be built for different purposes and are available with a generator if extra power supply is needed in the field. They can also be made as a flatbed, hard top, side or curtain side trailer.
We have many years of experience as a supplier of vehicles and equipment for the defence. Therefore, our trailers live up to the requirements of the defence for ease of use, manoeuvrability, and durability.
The trailers are typically painted in the green or brown colours of the defence but can be painted as desired.
SOLUTIONS:
½ tonnes, 1 and 3 tonnes trailer
BENEFITS:
High quality
Industry-optimized solution
Fast startup
Long lifespan
CONSTRUCTION:
Depending on project and customer wishes
Get an offer
Should we contact you
Fill out our contact form and we will contact you
Contact me