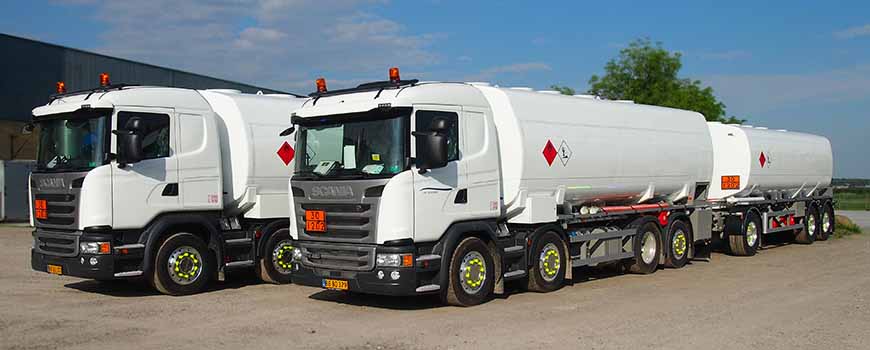 Optimized
Fuel tanker solutions
We offer fuel tanker solutions optimized for the oil / petrol industry and build tankers in aluminum that allows you to transport as much fuel as possible within the applicable rules.
With us you can get a fuel tanker truck that is optimized for your needs. We place great emphasis on our fuel tanker trucks being user-friendly, safe, and complying with the current regulations in the area. This means that all HMK Bilcon's aluminum tankers are approved for the LGBF fuel type according to ADR.
HMK Bilcon designs aluminum tankers for several different purposes in several dimensions and in different sizes. Among our fuel tanker solutions, you will find aluminum fuel tanker trucks, drawbar trailers, semitrailers and refuelers. We build aluminum fuel tanks on 2-, 3- and 4-axle chassis from the most popular chassis brands such as Volvo, Scania, MAN, Mercedes, and DAF.
User-friendly products save our customers money. That's why we have developed the SafeCon® III fuel delivery control system. SafeCon® III facilitates operation and minimizes the risk of misuse and improves the operational safety for the drivers.
Our fuel tanks are extremely durable, which means that our tanks have a longer life than the chassis. Therefore, we also offer to refurbish and move your used tank to a new chassis. It saves you time and money.
In the menu on the left you can read more about the different fuel tanker solutions we specialize in.
Our factory houses most processes in the production of tanks with our own painting department. Therefore, we can control the quality of our products in house. We have over 50 years of solid experience with aluminum constructions and we place great emphasis on this expertise to benefit our customers.
Our mission is to be your first choice and your leading partner and supplier of all kinds of tank truck solutions in aluminum for transporting oil and petrol.
Get an offer
Should we contact you
Fill out our contact form and we will contact you
Contact me