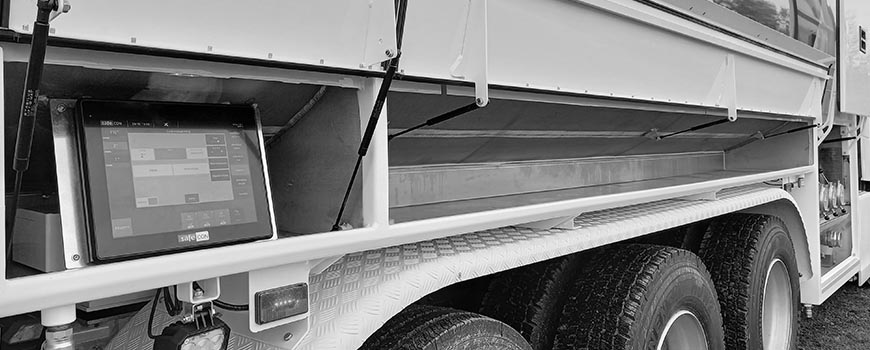 SafeCon® fuel delivery control systems
Since 2005, we have developed fuel delivery control systems for fuel tankers which transport oil and petrol in the Scandinavian markets. The control systems have been developed with the user in focus, so that everyday life for both driver and haulier becomes easier and more efficient. We offer both SafeCon® I og SafeCon® III as a fuel delivery control system for your fuel tanker. In close collaboration with you we choose the most optimal solution for your needs.
SafeCon® I
Our SafeCon® I fuel control system is used on tankers with their own metering system for dispensing fuel. The system controls a wide range of pneumatic functions and manual procedures, making it easier for the driver to deliver fuel. It is also possible to control work lights and cabinet lights on the tanker with SafeCon® I.
SafeCon® III
Our newly developed SafeCon® III is the next generation of IT control systems for fuel tankers with a modern touch screen with all the latest features. New and smarter features are constantly being developed for SafeCon® III and 24-hour support is now available. The fuel delivery control system communicates with the meter system through SafeCon® III and also provides an improved ability to see compartment status along with many other new features.
SafeCon® OTC-system
If you want to make your workday even more efficient, where your tanker is connected to the company's office you must choose to have our new SafeCon® OTC-system installed together with SafeCon® III . The OTC-system delivers order data to the fuel tanker and sends billing data back to the office - easily and quickly.
SOLUTIONS:
SafeCon® I
SafeCon® III
SafeCon® OTC-system
Get an offer
Should we contact you
Fill out our contact form and we will contact you
Contact me