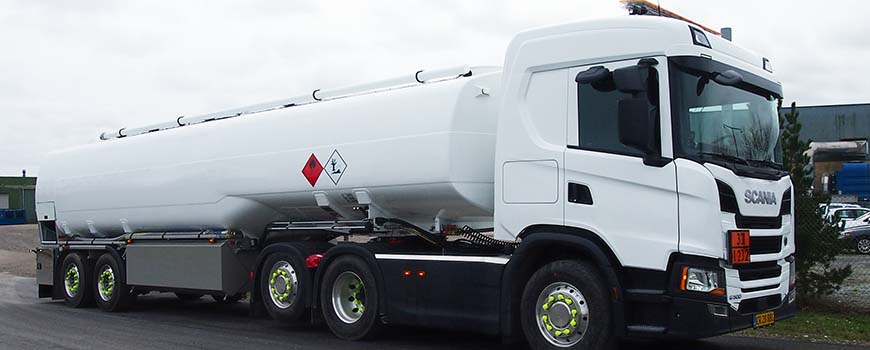 For many years we have manufactured tank city trailers for the Danish market for transport of diesel and heating oil. We are now ready with a new generation of this city trailer, and we have redesigned and optimized the product for the latest generation so it is possible to carry as much load as possible in one transport.
The city trailer comes with 2 forcibly controlled axles with control system type VSE, and the connection between the signal transmitter and the control box is now supplied electrically instead of the previous Tridex control system, where this signal was hydraulic.
This means that it is now possible to have 37,000 liters in the tank, where previously 25,000 liters could be loaded. The tank is slightly extended to be able to load the larger amount, but still retains the accessibility for which the one-axled city trailer was known.
The load can be distributed in up to 7 rooms, however smaller number of rooms can be offered. The tank comes with pump delivery equipment, with MID approved meter system, and 2 hose drums at the rear.
SOLUTIONS:
2-axled city trailer
BENEFITS:
Up to 5 years warranty
Low net weight
More load in the tank
Lowest total cost of ownership
All processes are carried out at the same factory
History and product knowledge goes back more than 50 years
CAPACITY:
37,000 liter
Get an offer
Video
Should we contact you
Fill out our contact form and we will contact you
Contact me