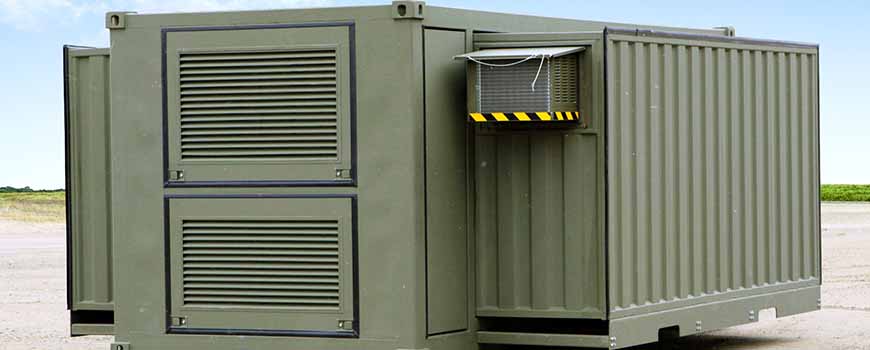 An expandable container from HMK Bilcon is suitable for field operations and can be set up wherever a truck can drive.
The container can be used as a command post, mobile headquarters, communication center, server center and more. The sides of the container can be expanded giving a total working space of 20m². It can be decorated with tables, chairs, cabinets, and other necessary furniture.
The expandable container is equipped with air conditioning, lighting, emergency lighting and network. It can be made with electromagnetic protection (EMC) to protect equipment and personnel from electric fields and wiretapping. Using two Dantherm ACM5-MKII air conditioning systems and a Dräger air filtration unit (AFU), the container is also CBRN protected, and it can therefore be used in CBRN areas (chemical, bacteriological, radioactive, and nuclear).
When the container is to be handled and loaded on a truck, it is done using the hydraulic legs and a remote control. It is transported as an ordinary 20 "container and can be transported by truck, train, ship and plane.
BENEFITS:
Flexible decor
High quality
Long life
Room for 7-10 people
40 ° C to 60 ° C
EMC protected
CBRN protected
TECHNICAL DATA:
Weight: 8,000 kg
Dimensions when closed: 6,058 x 2,438 x 2,438 m
Surface when unfolded: approx. 27 m2
Get an offer
Should we contact you
Fill out our contact form and we will contact you
Contact me