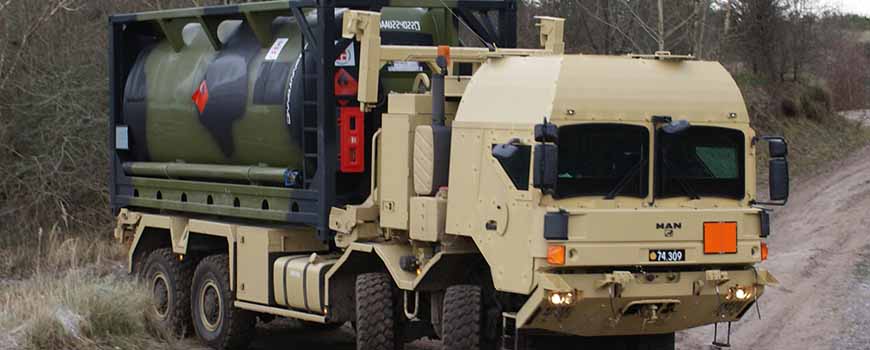 Our fuel tank container is intended for transport and storage of fuels used for land vehicles in military areas. The container is used as a storage container for storing extra fuel, which can be sucked into a stand-alone fuel container.
The fuel tank container is a standard 20-foot container approved for transport according to IDMG and ADR regulations. It can be made of steel, stainless steel or aluminum. Pump and meter are not mounted on the container, as it is only used as a storage container. The frame is made of steel and can be moved with a crane, hook, or top lift. It is CSC approved and can be transported by truck, train, ship, and plane.
The fuel tank container can be used as part of a larger tank farm, where several containers are connected with e.g., a camp tank which acts as a gas station for refueling the various vehicles of the defence.
If a fuel container is needed for delivery with a pump and meter, our stand-alone fuel container is suitable for the task.
BENEFITS:
High capacity
High quality
Long life
ADR approved
CSC approved
-46 ° C to + 49 ° C
TECHNICAL DATA:
Capacity: 24,000 liters
Get an offer
Should we contact you
Fill out our contact form and we will contact you
Contact me