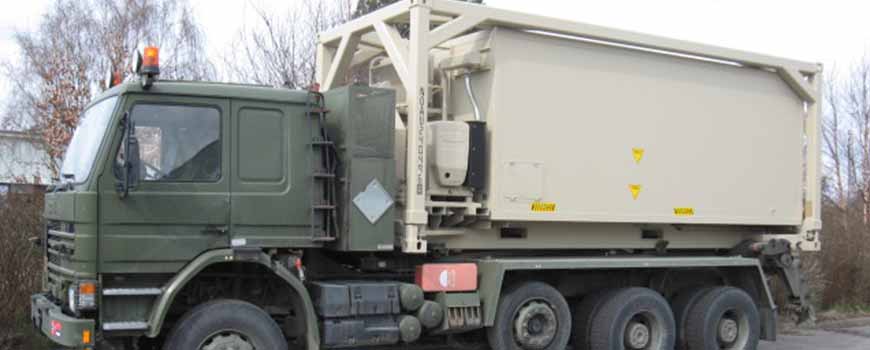 Our water tank container for defence can be used for many different tasks e.g., transport, treatment, storage, and delivery of drinking water or for emergency firefighting tasks. It can be set up and used for defence missions or for humanitarian operations abroad.
The water tank container can be insulated and used globally in temperatures from -46 ° C to + 49 ° C. It can be provided with water cooling and keep water frost-free during recirculation. The water quality in the water tank can be maintained according to STANAG 2136.
The water in the tank is supplied by means of a pump system, which consists of a main pump and a circulation pump. Filtration systems of different types can be fitted according to filtration requirements. In addition, a chlorination system can be fitted if necessary.
The container is self-sufficient with a built-in generator, and if it is mounted in a container frame, it can be transported by truck, train, ship, and plane.
For the military personnel, it is easy to operate, and we focus on a thorough training in the delivery of the products. We perform service tasks on water containers so that they are always fully functional in the field.
BENEFITS:
High capacity
Weight optimized
More options for transportation
CSC approved frame can be mounted
User-friendly
Up to 20 years of life
-46 ° C to + 49 ° C
TECHNICAL DATA:
Capacity: 10,000 liters
Get an offer
Should we contact you
Fill out our contact form and we will contact you
Contact me